Chapter 12

Spending More Time Abroad
B
ack in the 1970s, I had looked into the possibility of buying a place in Spain as I love the sun. Being a workaholic, I reasoned that I wouldn't have the time to use it, so decided not to go ahead. That was to come in 2012.

Originally, I started looking for a place in Faro, Portugal, as my best friend, Dave Hallgath, has an apartment there. Dave lives just a block down the street from me in Lincoln and we spend a lot of time together when we are both in town. The apartment I live in now was originally my offices which I later converted to an apartment and a ground-floor shop, both of which I let out. When my wife and I separated and then divorced, it became my home.

Dave and I have known each other for over 40 years. I first met him when he was at the carpet shop a few shops down the street from my office. His company provided the carpets for a number of my houses and over the years we became friends. Although it was after he left the carpet business and opened a Bed and Breakfast place that we started to get to know each other socially. We were both ex-military and also, had an interest in property. He was starting to buy up the adjoining properties to his and incorporating them into the Bed & Breakfast. Eventually, he owned the whole block and then decided to convert the properties into flats and let them out. We often look back on those days and realise how good life had been to us.

Apart from us having similar backgrounds and interests we also had a similar outlook on life. That may have come from our military experiences and the fact that everything we had we had to work hard for. We like the quote of Samuel Goldwyn - The harder I work, the luckier I get. Dave, like me also went through a divorce and we frequently talk about how that made us stronger and more able to deal with the 'slings and arrows of outrageous fortune'.

So, I went to Faro and stayed with Dave for a few days to look at a few places, but I didn't find anything that I liked.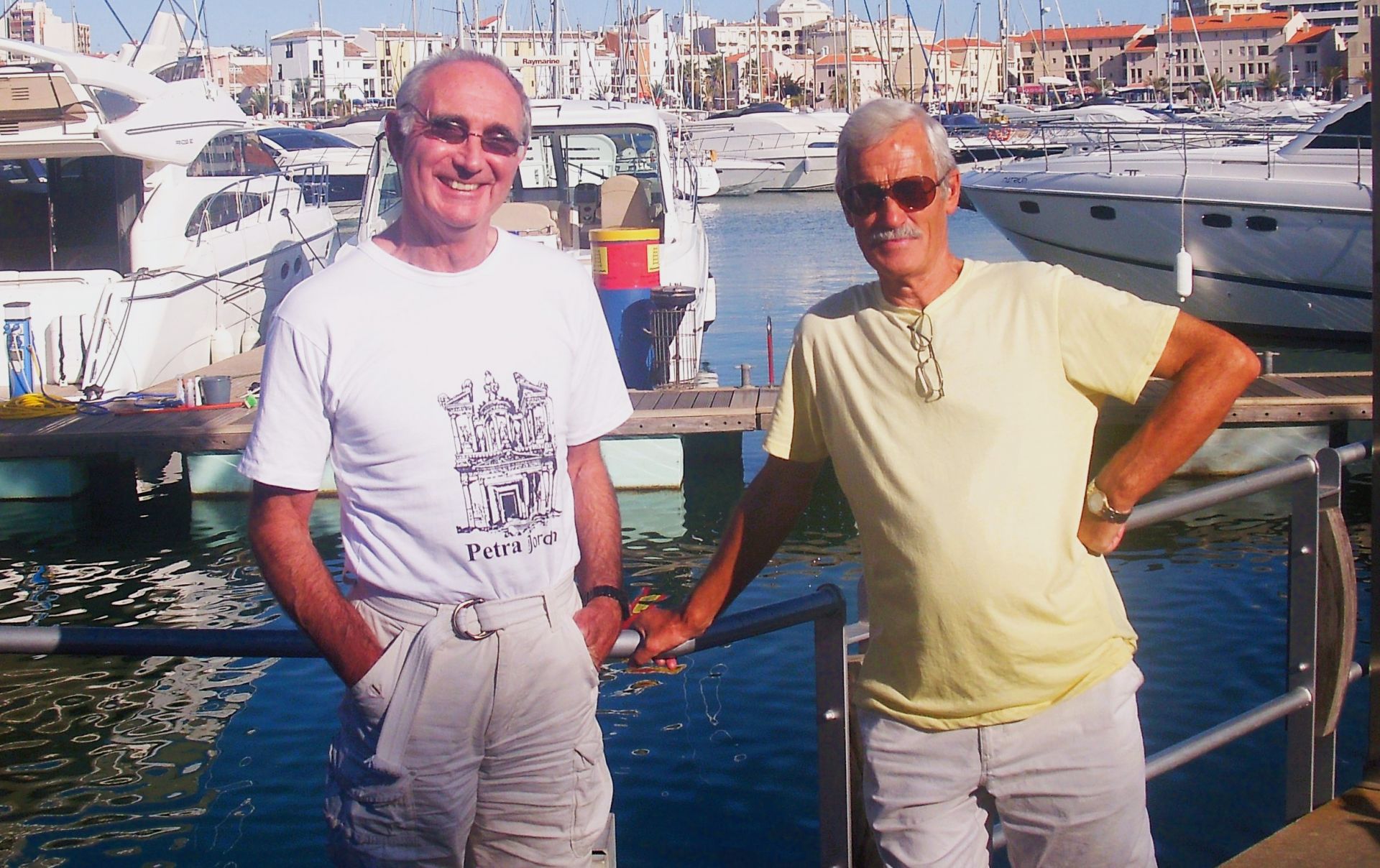 Dave and me in Faro, Portugal while I was looking for a property to purchase. 2011.

When I returned from Faro I was speaking to Damian, my nephew, and he asked if I had considered Spain. I started to look around on the internet and discovered Torrevieja on the Costa Blanca. There were a number of places that looked promising, so I decided to go across for a few days and view them. I invited my friend Anne to come with me.

What I wanted was somewhere that was easy to get to. I wanted to be able to nip across without the journey being too much of a hassle. Consequently, I wanted a place that was within easy reach of an airport, with good transport links. I wanted somewhere close to the sea. The place itself needed to be within easy walking distance of the shops and restaurants so that I wouldn't need a car. Its orientation had to be such that it got lots of sun as I love to sit in the sunshine. I wanted an apartment, not a house, that I could lock up and not worry about it when I wasn't there. I didn't want something that required maintenance or continual upkeep.

On the first morning, the lady from the estate agent collected us from our hotel. Firstly, she took us around Torrevieja to give us a feel for the area and then to see some of the places. Having dealt in property for many years I am a great believer that it is the first impression that decides if it is right or not. When we drove on to an urbanisation just outside of the city with its communal gardens, swimming pool, and spacious layout, it had a nice feeling. It even had a restaurant/bar on site. The apartment was on the first floor of a two-story building and as soon as I entered, I knew this was a place I could live in. I immediately felt at home. We did have other places to see and the next day I was seeing another agent, but he had nothing to compete. The day after it was back to the first agent and when she picked us up, I asked to go back to the property that I had liked from the other day. Anne also felt positive about it and returning to it, I decided to put in an offer. The place was fully furnished, it even had bedding and crockery. The agent phoned the owner and with a bit of negotiation we had an agreement. The agent arranged for me to see a lawyer the next day whose assistant took me along to a bank to set up a Spanish bank account and I had a place in Spain. It couldn't have been easier.

Within a few weeks, all the legal side had been completed and I went off to Spain to sign the final document and to pick up my keys. I then went off to my apartment.

One of the nice things was that I didn't have to do anything to it. I did consider getting a place that needed work but decided I wanted this to be a retreat where I could do nothing but relax. My place is five minutes walk from a supermarket, so I headed off to stock up the larder and fridge. Although it didn't need anything doing, I did personalise it, so it now has my stamp on it.

The urbanisation itself has people from many different countries; some properties are used as homes by locals, while many are holiday homes, but everyone was friendly, with many people speaking English.

The arrival of the COVID health pandemic in early 2020 put a stop to my travelling. Prior to it, I would rarely spend more than a few weeks in Lincoln at a time. I would either be in Spain, Atlanta, on a cruise, or travelling of my own volition. Certainly, my desire to travel intensified when I reached 60, as I decided that there were still a number of places that I wanted to visit. I didn't want to be sat in my chair in the old people's home thinking I wish I'd been to …. I wanted to see the Grand Canyon and the Himalayas. I wanted to visit Tibet and Machu Picchu, so I set about making all those trips. With the coming of COVID, I was pleased that I had done them while I could.

When the COVID shutdown hit, I had a flight booked to Atlanta as well as a booking to speak on a cruise around Central America, both of which had to be cancelled.

Although, apart from not being able to visit Gay, the lockdown couldn't have happened at a better time for me. I had been renting out the ground floor of my property as a shop. My plan was to convert the shop into a flat with the idea being that, if in the future I couldn't manage the stairs, I could move down to the ground floor. Alternatively, it would be a place for a carer to live in their own self-contained accommodation. But, for the time being, I would let it out.

Just prior to the start of the lockdown, the shop became vacant. I obtained planning approval for its conversion. Since I couldn't travel, I decided to do most of the work myself. I did get someone else to take out the shop front and to put in a new floor but, apart from that, some structural work and the plastering, I did everything myself.

DIY has always been a hobby of mine and having something to do when in lockdown was perfect. By September, I had completed the renovation, and by October, I had a tenant. I have always worked on the basis that if you provide a good place and let it at below the market rate, you will get good tenants who will want to stay. I finished it to a high standard and had no problems letting it. After I had completed that conversion, I moved on to my apartment and carried out a few jobs on that, then redecorated throughout.

The other thing that I did during the lockdown was to update the Famous Historic Buildings website by revamping the format and adding additional articles and photographs. I was still assessing assignments for my old company, so I had plenty to occupy myself with. I am fortunate as, although I live in an apartment, I have a private enclosed external area with a patio that gets the sun all morning and most of the afternoon so I could sit outside on sunny days without breaking the lockdown.

Another thing that I did do was to offer myself to Age UK to assist Veterans who were in need. That began with delivering food parcels to Veterans in my local area. I was then asked to host a virtual meeting for Veterans on Zoom, which enabled me to speak to some really nice, like-minded people. I chose Age UK because of its outreach to Veterans, as I am still a member of the Reserve Forces and Cadet Association, Lincolnshire Committee. Also, the premises that Age UK occupies were once the Lincoln Association for the Care of the Elderly, and, back in the 1970s, I sat on their Executive Committee and was Chairman of their Appeals Committee.

Although Dave and I had formed a COVID "bubble", the eventual lifting of the lockdown meant that we could resume our weekly routine of dining out three days a week, something that we had both missed.

Something else that my divorce led to was an increase in my traveling, both as a speaker on cruise ships and also of my own volition. I had got back into traveling while I was in London, firstly on a package tour to Greece and then Israel.

While going through my divorce I met Anne a lady who worked for a solicitor and she was a great help in providing me with advice. She was divorced and loved to travel so we started visiting some of the places that we both had on our Bucket Lists. That took us to many exotic places around the world such as China, Tibet, Vietnam, Cambodia, Thailand, and Kathmandu, to mention just a few. It also made me want to see more of the places that I had read about so I would travel on a regular basis, many times as a solo traveller.

Many people are reluctant to travel on their own, but if you are a sociable, friendly type of person you are never on your own unless you want to be.

I met Gay, the American lady who was to become a significant part of my life, on the Viking 'Christmas in the Mediterranean' cruise in December 2016. I was one of the guest speakers and was having lunch by myself in the World Café. Gay was sitting at the table next to me by herself, as she was a widow and travelling on her own. She had her nose in a book, so I didn't speak but, when I wanted to fetch a dessert, I asked her if she would keep the staff from clearing my table. This broke the ice and, when I returned, we started to talk. That was Day 3 of the cruise. Over the next week, we kept bumping into each other, usually at lunch, getting to know each other better each time.

By then we realised that we had a lot in common; we had both been involved with the military, as her late husband had been a major in the U.S. Army; we were both business owners; and we shared a love of history and travel. I, therefore, suggested that we meet for dinner.

Gay asked that our dinner date include another couple whom she had befriended on the cruise. The four of us had a very enjoyable evening and, since then, we have all four remained close friends, seeing each other whenever I'm in the U.S. We dined together each evening for the remaining three evenings of the cruise and, at the end of the cruise, we decided to keep in touch. Over the next three months, Gay and I got to know each other even better through numerous emails and the sharing of photographs of our lives. Three months after meeting her I visited her in Atlanta.

Gay used to breed and show miniature schnauzers and at that time had two as pets. I have to confess I was more nervous about meeting the two dogs than meeting her family, as I knew that if the dogs didn't like me that would be the end of any relationship for Gay and me. Fortunately, they liked me, so I was able to visit again, I have been doing so ever since on a regular basis. Gay also makes frequent trips to England, and we have done a number of trips within the USA. My visit frequently ties in with events relating to her social life, such as a friend's birthday event that incorporated a few days in New York or the wedding of one of her employees.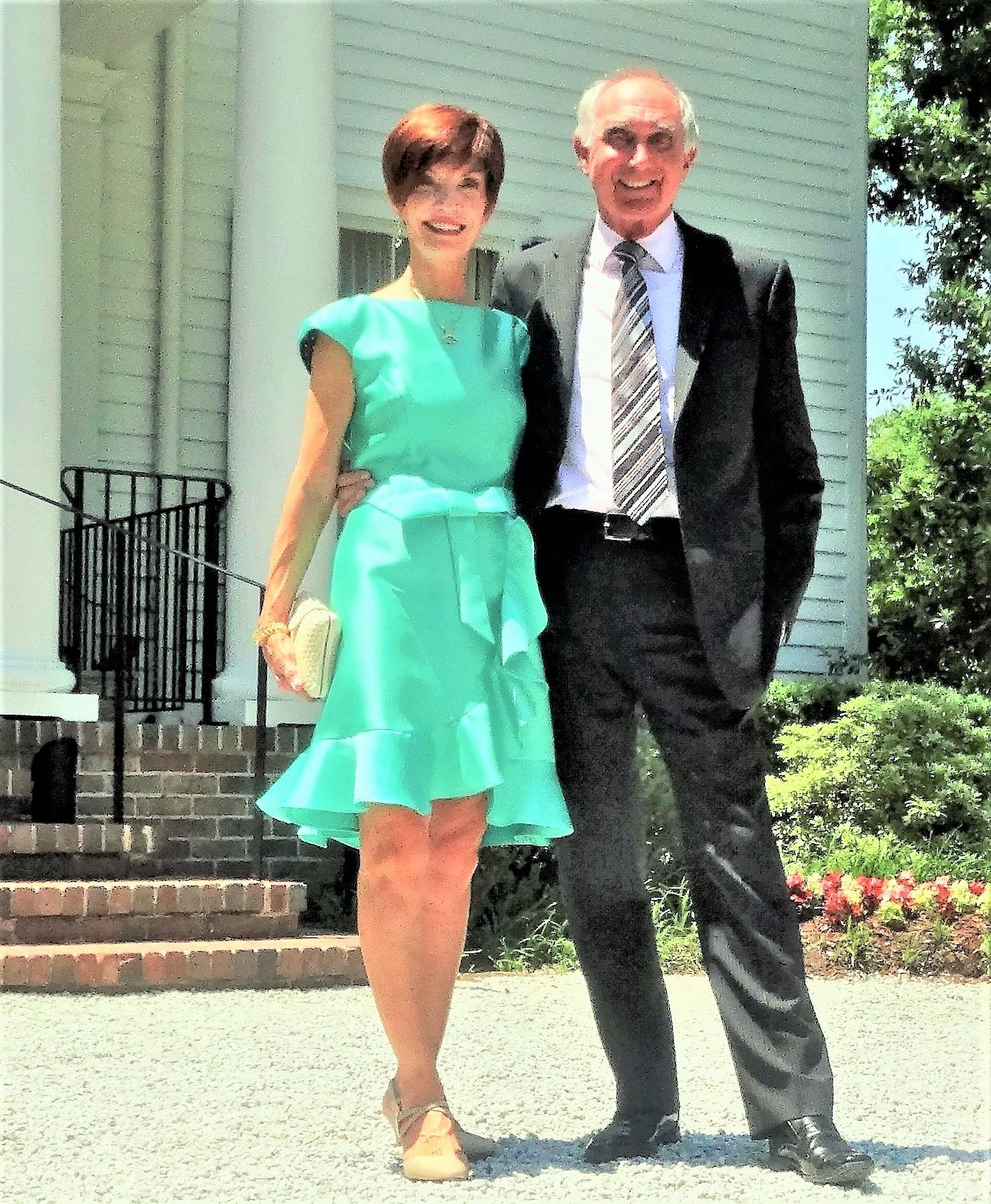 Gay and me at the wedding of one of her employees in Atlanta, USA 2018.
We have also done several cruises together, be that when I have been giving talks as a guest speaker or ones that we went on as normal paying guests, including one with Sherry and David, our friends from our first cruise.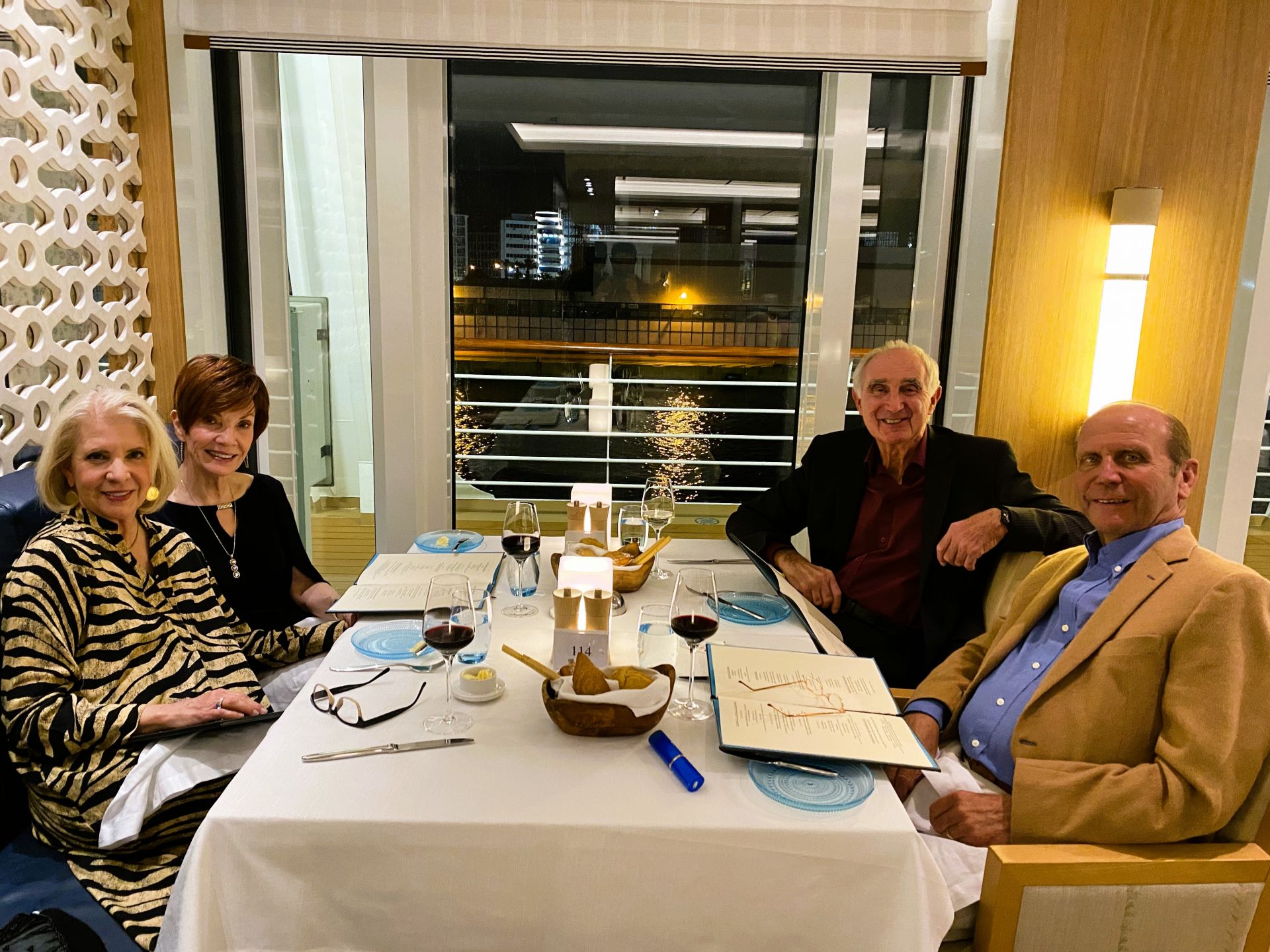 Sherry and David with Gay and me on a cruise

After a few trips across to the States to visit Gay, and the realisation that I would probably continue to make these trips, I decided to apply for Global Entry. That is a scheme whereby you go through a process, which enables you to get into the States without having to go through immigration on each trip. To get Global Entry you must fill in an application which is first vetted by the British government and then you have an interview by a U.S. Immigration Officer. I had my interview at the Atlanta airport. During the interview, the Immigration Officer was explaining the rules to me and emphasised that I must adhere to them. I told him that, being ex-military, if I am told to do something then I would do it. On that, he got up from behind his desk, came across to me, and shook my hand, thanking me for my service to my country, something that really impressed me. I passed the interview and was approved for Global Entry.
 
---
Chapter 13 - My Heritage